Indian Single 1903 - U.S.
16 ci - Power output: 1.8 hp. Top speed: 30 mph
Massachusetts bicycle manufacturer and accomplished racer George Hendee teamed up with New York engineer Oscar Hedstrom to create the Indian motorcycle firm.  A successful prototype was built in 1901 and the company went into mass production in 1902, building 143 machines.  Within a few years it became the world's largest motorcycle manufacturer, producing 30,000 units in 1913.  The Indian Single had a unique design in which the engine was an integral part of the frame.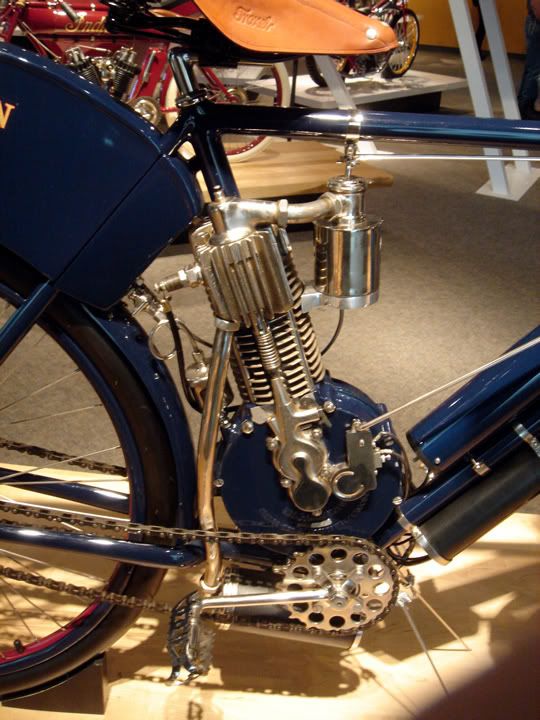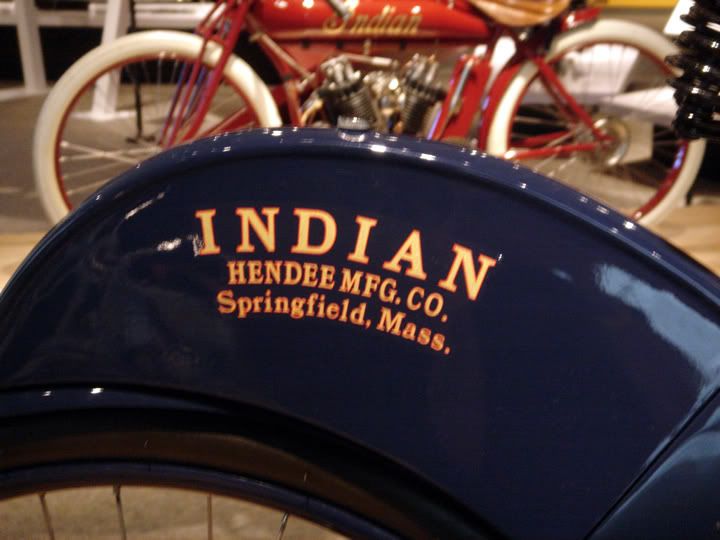 Curtiss Marvel 1910 - U.S.
30 ci - Power output: 5 hp - Top speed: 50 mph
Aviator and aircraft engine designer Glenn Curtiss began his career building motorcycles.  He set a speed record using a motorcycle chassis to test a V-8 aircraft engine.  Curtiss formed the Marvel Motorcycle Company near his engine plant, which built Curtiss Marvels from 1909 to 1913.  This is one of the very few remaining examples.  It features a unique overhead-valve mechanism that uses a rocking arm to activate both valves.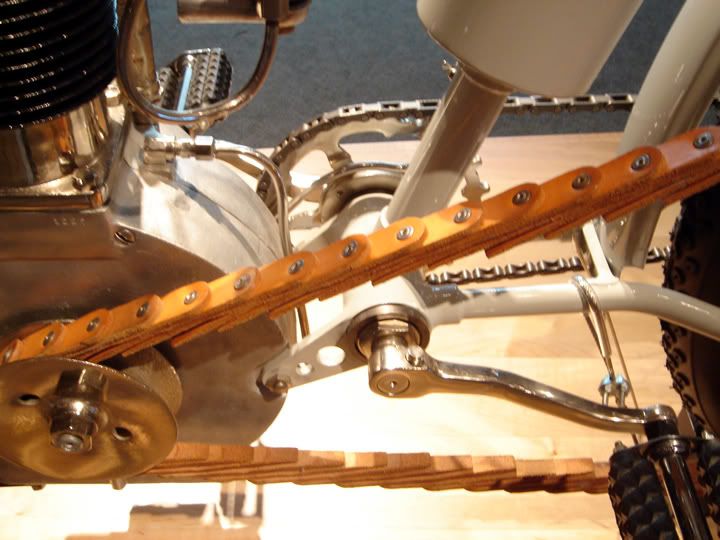 Daimler Einspur 1885 (replica) - Germany
264 cc - Power output: 0.5 hp @ 600 rpm - Top speed: 7 mph
The Daimler Einspur was the first vehicle to employ an internal combustion engine.  Working on a design for an engine-powered carriage, Gottlieb Daimler attached an experimental internal combustion engine to a specially-designed wooden bicycle frame.  He called the vehicle an "Einspur," meaning "single-track"--a reference to its two in-line wheels.  The engine delivered power to the rear wheel and used a tiller-type steering mechanism through the front wheel.  The outrigger wheels were used to stabilize the ungainly frame.  After the Einspur successfully completed a six-mile test drive, Daimler went on to build a series of three- and four-wheeled motor vehicles.  His firm eventually became the Mercedes-Benz, Daimler-Chrysler automotive empire.  The original Einspur was destroyed in a fire in 1902.  This replica was made for the 1986 Daimler centennial.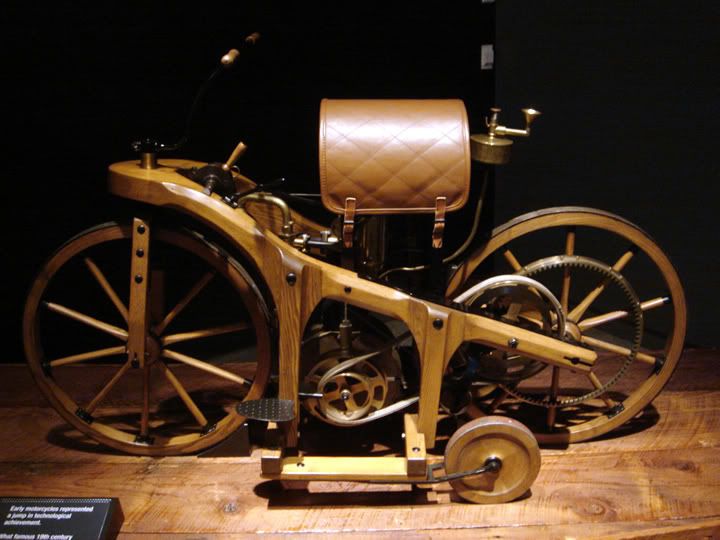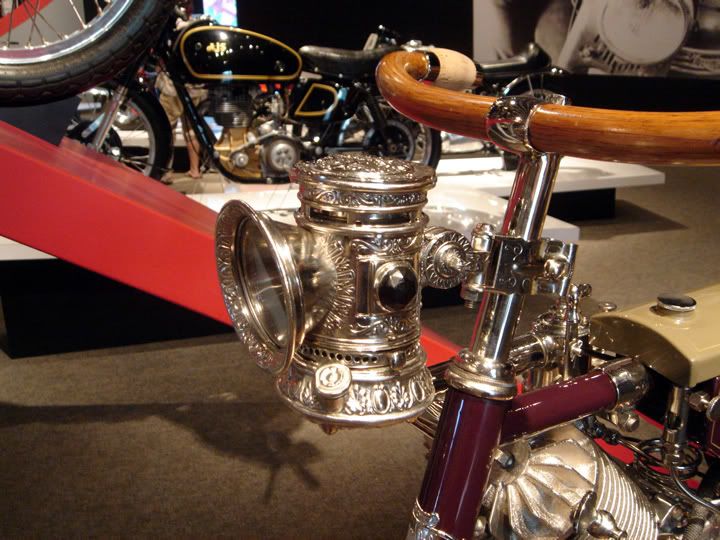 Cyclone Racer 1914 - U.S.
1,000 cc - Power output: 45 hp @ 5,000 rpm - Top speed: 110 mph
The Cyclone was introduced in 1914 by the Joerns Motor Manufacturing Company.  Cyclones won race after race on both board tracks and dirt tracks.  Racing fans around the country recognized its typical bright yellow racing color, the shape of its advanced engine and its sleek profile.  The Cyclone's most famed race took place at the Phoenix State Fair track in November 1914.  Prior to this date, the "champion driver of the world," Barney Oldfield, held the track record for the fastest mile with a time of forty-eight seconds.  A purse of $1,000 was offered to anyone who could beat the record, drawing automobiles, the Cyclone and even an airplane.  With Oldfield watching from the stands, the Cyclone beat his record by 2 seconds and became a racing legend.  This particular example is a hybrid, built by a privateer racer in 1926 using a 1914 engine and a later Harley-Davidson frame.  Because racing machines of the era were prototypes, it was not unusual for specials such as this to be constructed.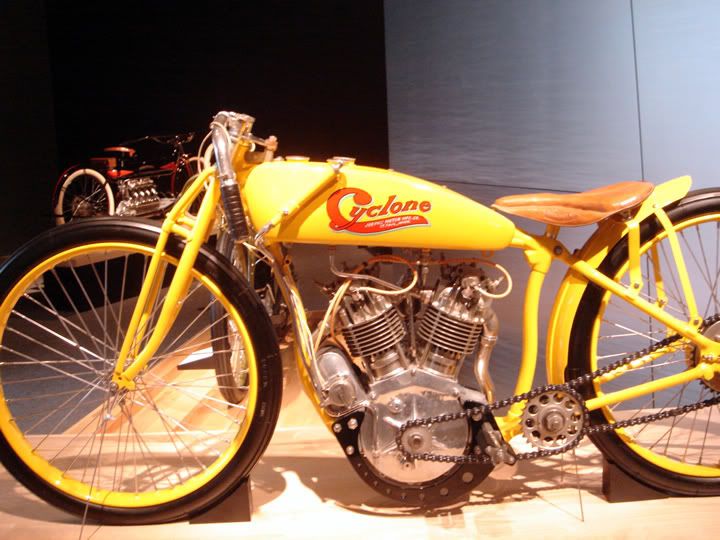 Henderson Four 1912 - U.S.
58.9 ci - Power output: 7 hp - Top speed: 55 mph
William Henderson, the father of American in-line four cylinder motorcycles, produced his first machine in 1912.  The 65-inch-long wheelbase smoothed out the ride over rough roads and permitted a passenger to ride in front of the driver.  This was advertised as being more civilized than having the lady following behind in clouds of dust.

Harley-Davidson 8 Valve Board Track Racer 1928 - U.S.
61 ci - Power output: 20 hp - Top speed: 109 mph
Harley-Davidson did not build racers for the first ten years of the company's existence.  Their entry into racing came in response to Indian's marketing successes and the public's love of the sport.  Directly influenced by Indian models, Harley-Davidson's first eight-valve V-twin racer was introduced in 1916.  Its engine utilized the best aeronautical design of the day, with hemispherical combustion chambers and four valves per cylinder.  The machine was made in very limited quantities and was not available to the public.  Only five are known to exist today.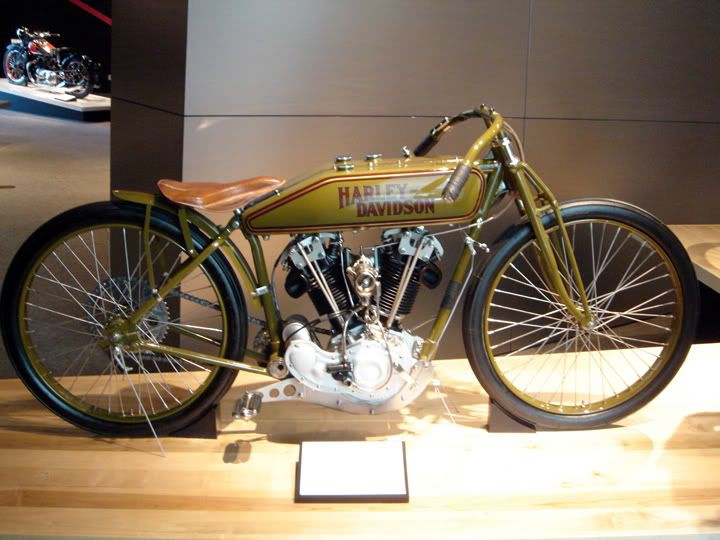 ---
Do I think I'm better than everyone? Only the ones I'm better than.